Since Nidra Not Nice introduced me to the podcast The Read I've been hooked. Every Wednesday I log on to Souncloud to recap the previous week's episode before the new one drops on Thursday's. I'm usually pretty good about keeping my schedule but I missed last weeks episode. I had some time today so I tuned in to play catch up and let Crissle and Kid Fury do what they do best, make me cackle with their blackety black antics.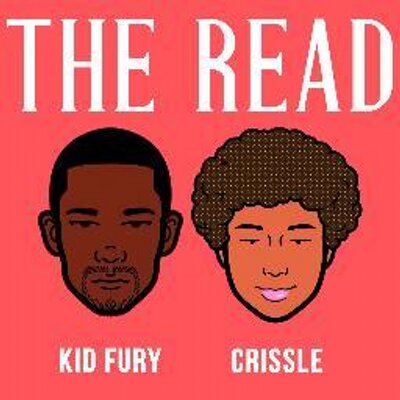 Twitter
The title and topic of last week's episode was 20 Questions. The hosts asked each other questions touching on everything from childhood memories to lessons from ex's. It was so illuminating and entertaining it made me want to play along too!
Here's my answers the same 20 questions Kid Fury asked Crissle. While I'm sure my responses probably won't be anywhere near as hilarious as the dynamic duo's, I'm going to do my best while being as honest as I can. Leggo!
What is the best lesson that an ex has taught you?
The best lesson an ex has ever taught me is that I could not fix my self esteem issues by seeking what I lacked in other people. I used to have colorism and hair issues. I would only date women who had light skin and loose curl patterns because I thought they were the only women considered to be beautiful. I'm sure a lot of that stemmed from my childhood and having family members show preference for my cousins who fit this bill but just because someone had characteristics that I felt were beautiful on the outside didn't make them beautiful on the inside. It was by chasing women based on their appearance and tolerating the things they put me through that I realized that not everything that looks good is good for you.
What is the silliest thing you remember being scared of as a child?
Freddy Krueger! One night my mom allowed me to stay up late to watch Nightmare on

Elm Street. I had to be no more than maybe seven. This dude freaked me the hell out. I didn't understand his face but what really got me was that he fucked you up in your sleep! I was already scared of the dark and you mean to tell me that even after making sure to fall asleep in bed with my mom I still had to worry about this monster coming to get me in my dreams. I. Could. Not. with him. Then one night my mom thought it would be funny to dress up like Freddy and pick me up to carry me from her bed to mine, I woke up when I felt myself moving to see Freddy's face staring back at me. I lost my shit!!!
Something you did as a child that aggravated your parents.
Always used my mom's hair care products. Even as a child I understood that my mom's hair care products were way better than the jar of Blue Majic she'd pick up for me in at the grocery store. I stayed getting in trouble for messing with her stuff but she always kept it in the same place. Wasn't that a sign that I should use it?
One has to go, Shuri, Nakia, Okoye…
Excuse me, what? Who are these people? I feel like this is going to be one of those things where I'm going to be read for filth for not knowing who these people are. It's okay, I probably deserve it.
What is your favorite plant and or flower?
Stargazer lillies!! How could it not be my favorite, it's so beautiful and smells like honeysuckle.
What is the best strip club you've been to / best strip club experience?
The night I took Tre' to her first lesbian strip club. It was hilarious. She HAAATTTTEEEDDDD IT! The whole night she sat with a perpetual look of disgust and disinterest. When I asked her about it later she told me it was because the girls weren't cute and none of them had done anything worth her money.
Advice for dealing with friends who have friends that you hate.
Be grown! I'm sure we all have been forced to be around someone we don't like and hopefully those of us in our 30's and beyond have realized how unnecessary it is to give your energy to someone unworthy. If you don't like the person, don't like them. There's no need to be extra, unprovoked.
Fictional villain / antagonist that you'd want to be friends with. 
The Grinch. He just seemed like he had his life figured out. He didn't fuck with people or take no shit from anybody. He was real live out here ridin' around and getting in these streets and he didn't give no fucks. That's the type of energy I need from time to time.
Favorite Love and Hip Hop fight?
I don't watch it. Couldn't tell you who's in it or what they do.
One gotta go, Thanksgiving edition, Sides: Greens, mac, cornbread.
Cornbread. I'm not a huge bread eater so I can really do without it. Is it even Thanksgiving if there's no mac n cheese??!?!?!?! And I surely don't want to be apart of any Thanksgiving meal that doesn't have some good ol' collards or mustard greens.
What is the worst / funniest lie you've ever caught an ex in?
After my ex told me she was working late I decided to go to her house to surprise her with dinner, where I walked in on her having sex with another girl. The girl and I exchanged a few words and a few blows before I threw the girl out of the apartment butt naked. My young dumb self didn't throw the ex away at that time though. I basically fell for the don't believe your eyes believe what I tell you approach. It took another two times for her to cheat on me before I finally left. lol. I was so dumb.
What is an unpopular black opinion you have?
Cardi B, Nicki Minaj, and Migo's are not good rappers. I said it. FIGHT ME!
If you could give Barack and Michelle super powers what would they be?
I'd give Barack the ability to teleport so that he could pop up anytime Donald Trump tells a lie and correct it. I'd give Michelle super human strength so she can deliver the most effective slap to Melania for stealing her speech.
What is your favorite cereal?
Raisin bran crunch. I don't care what anybody says, the shits fucking delicious. Period.

Paper straws?
Say what now? What are these paper straws? What are these people talking about? Wouldn't paper dissolve in the liquid? Why is this necessary?
A magazine that you would like to be on the cover of if you could?
WORD UP! magazine. I don't know about you but as a 90's kid I always wanted to be on the cover of this magazine. They always had the flyest celebrities in the freshest 90's gear. I'd beg for the newest copy so I could get the full sized poster inside to hang on my walls. They're not in publication anymore but still.
A celebrity crush you once had but now kind of grosses you out?
Angelina Jolie. I don't know man. Ever since the pictures of that girl came out who supposedly had all those plastic surgeries to look like Angelina I just can't look at her the same anymore. All I see is this chick… I just can't even!
One gotta go, Living Single, Girlfriends, Insecure.
Insecure. I've never seen it but there's no way I can imagine being in a world without my childhood crush on Queen Latifa nor can I act like I did not use to wish so badly that I was Joan on Girlfriends. Those two shows were necessary for my childhood. It was my chance to see strong women of color in all types of jobs living happy successful lives. Sorry Insecure. I'm sure it's a great show though.
You're releasing an album, you get to choose one rap feature, one pop feature and one R&B feature, you cannot choose Beyonce' for all three. Who are you choosing?
Rap feature: Mc Lyte
Pop feature: Jasmine Sullivan
R&B feature: Chris Brown
Something on your bucket list that you would like to cross off ASAP?
I don't have a bucket list. Soooo, make a bucket list? lol
This was fun!!
Let me know what you think. Should I do more?
Until next time…
Don't judge me, you don't know my life!!